History of development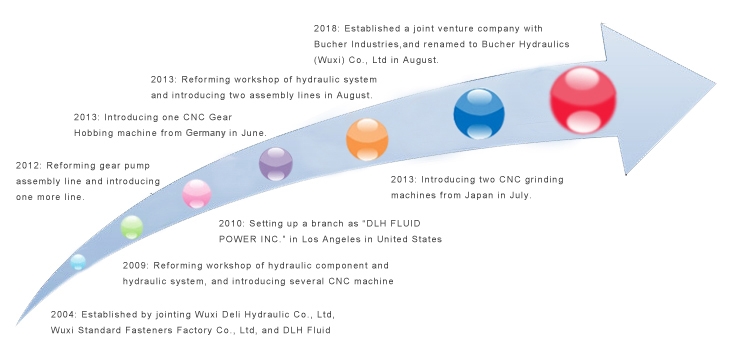 History of development:
2004: Established by jointing Wuxi Deli Hydraulic Co., Ltd, Wuxi Standard Fasteners Factory Co., Ltd, and DLH Fluid Power Inc.
2009: Reforming workshop of hydraulic component and hydraulic system, and introducing several CNC machine from Korea.
2010: Setting up a branch as "DLH FLUID POWER INC." in Los Angeles in United States in March.
2012: Reforming gear pump assembly line and introducing one more line.
2013: Introducing one CNC Gear Hobbing machine from Germany in June.
2013: Introducing two CNC grinding machines from Japan in July.
2013: Reforming workshop of hydraulic system and introducing two assembly lines in August.
2018: Established a joint venture company with Bucher Industries,and renamed to Bucher Hydraulics (Wuxi) Co., Ltd in August.